Did anyone else notice that every champion who walked out of Night of Champions was a former NXT star? NXT is creating great WWE wrestlers faster than they can be absorbed into the main company, but that's okay, because they are also raising the bar across the board as far as skill and talent goes. Between Kane and Undertaker moving into the end of their careers and all the guys just getting started, we're at a point where things can change quickly and anything can happen. Here is what I think should happen.
THE DIVAS
Bayley should be in no rush to move up and would be best served by remaining the NXT Women's champion for a year or so. The kids love her, she's got a great babyface attitude and could really pull up the rest of the division. If she moves up to the WWE, she'll be sitting at the back of the line behind the other four horsewomen. Bayley needs to cement her place and her personality so that when she does finally make the leap to the Divas division, she will do so as a top superstar. Asuka and Dana both need to a few good matches against Bayley as well, especially Dana, who comes across as a great heel with a great physique, she just needs the right focus and story to build her up. I don't know much about Asuka but I am sure her skills are top notch. Why is the WWE even wasting our time with Eva Marie matches? Especially when Bayley seems to be the Hulk Hogan of women's wrestling. If she isn't now, she soon will be. I also can't wait to see who this Nia Jax woman is.
NXT / WWE SWITCHES
I'd really love to see Tyler Breeze take the next step up to the WWE roster. He's be a great foil for someone like Kevin Owens or a brute like Rusev. Breeze is the kind of heel who can put over whoever he is up against and he's definitely being wasted in NXT right now. Tyler is at that point in his career where he either has to move up to a Shawn Michaels level or continue bottom feeding alongside Adam Rose. Goldust is due for a final retirement match, wouldn't Breeze be the perfect warm-up for Goldust before being put to rest once and for all by his brother, Stardust. As for WWE stars stepping into the yellow and black ring, I think it would be a good idea to have The Big Show, after a loss against Brock Lesnar, taking over William Regal's job at NXT. Regal has done a great job, but the NXT crew needs to be reminded that making it to the WWE is a hard and dangerous road and throwing the Big Show in their way would make it seem all that much harder to make it to that next level. Show could even have a few great matches against Samoa Joe and Apollo Crews to put those guys over before they move up. Speaking of Crews, as much as I like him, I really hope he loses to Tyler Breeze at Takeover:Respect. Breeze needs a victory and it won't hurt Crews momentum for him to lose a match, especially against a dirty veteran like Breeze. That match is great opportunity to build both men up in a great feud.
TAG TEAMS AND PARTNERS
With Sting being out of active duty, wouldn't he make a great maniac mouth for the now clearly insane Kane? Part of what makes the WWE fun is the odd pairings and strange storylines you sometimes get. Not everything works, but when it does, it's unforgettable. Rollins broke Sting, it makes sense for Sting to want some payback for that and seeing the Icon next to the Big Red Machine, maybe even in red face paint, would be quite frightening, especially for a guy like Seth Rollins.
The Vaudevillains need to be moved up to the WWE, the tag division needs them. Los Matadores and the Lucha Dragons just aren't working and the Ascension are far more interesting with Stardust then they were on their own. New Day VS the Vaudevillains? That match is pure comedy gold!
DANIEL BRYAN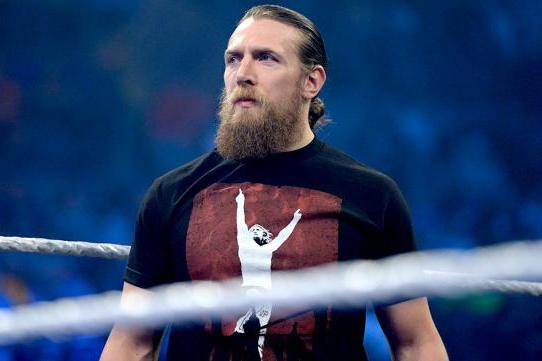 I am not a big fan of Bryan, at least not his personality, but he had great skills in the ring. A feud between him and Owens is exactly what the IC championship needs to return some of the glory to one of the WWE's legendary titles. Ryback wasn't working and Owens has yet to have a serious feud, and once Ryback is dealt with, Owens is going to need a serious opponent. The WWE title race is already too crowded with Seth Rollins opponents and it would make no sense to move Owens up now. Owens is going to have to prove himself and wear that belt with pride before anyone will consider giving him another one. If the rumors of Cena taking some time off are true, then the WWE needs Bryan in the race for the US title, if not then he should remain near the IC belt to build up the guys in the race for that belt.
I don't know how many of you are aware of this, but Daniel Bryan is being kept out by the WWE because of CM Punk. Daniel was out with a serious neck injury not that long ago and when he came back, he soon suffered another injury. For a while, no one was talking about it and we the fans did not know what the situation was. It appears that all Daniel suffered was a concussion, but that in itself is a problem because the WWE currently has a lawsuit against them by wrestlers who claimed the WWE is responsible for the concussions they suffered. CM Punk made accusations that the WWE doctor let them go back to work sick and injured, a claim the doctor refutes and is now taking Punk to court over. If they let Bryan come back without being certain that he is fit to wrestle, they risk proving Punk right and adding fuel to the fires that are already burning. Daniel Bryan's doctors have cleared him to wrestle, but the WWE doctor won't because he has to deal with the bullshit CM Punk started. Every wrestler who is injured is now going to face more obstacles to getting back to work thanks to the bad experiences of one loud-mouth wrestler, whose claims have yet to be proven, BTW.