For the first time, I decided to watch New Japan Pro Wrestling, specifically a match between "Rain Maker" Kazuchika Okada and AJ Styles. Now, it has been a long time since I watched a Japanese wrestling match and never with any real interest and I was surprised at how Americanized the product was. I mean of course most of the people were speaking Japanese, but there were a lot of American wrestlers involved, including of course AJ Styles himself and his Bullet Club. Apparently this was a heel vs heel match, Okada's "Rain Maker" character was meant as a heel, but of course the old fashioned "foreigner heel" storyline always works,which is exactly what AJ and his boys came across as. Japan has always been a country of pride and tradition and the Bullet Club really worked as a disrespectful group of invaders. The match I watched was from 2014, Okada is currently the World Champion, in this match however he lost to AJ Styles.
I noticed in NJPW wrestling they interviewed the wrestlers after the match, something the WWE rarely ever does.
AJ Styles in 2014 looked a lot like Seth Rollins in 2015. He is a phenomenal wrestler, with a lot of in-ring talent, but I can see why the WWE doesn't have a place for him. From Ziggler to Rollins, there are just too many guys like AJ in the WWE right now. The Bullet Club doesn't really have a 'theme' other than a cool pirate flag, and they seemed a little too "NWO" for my test. I was also very impressed with Okada, who I'd love to see perform in NXT. I just read that there are some Finn Balor (as Prince Devitt) vs Okada matches out there, going to have to hunt those down! It is very interesting the way some wrestler's careers weave in and out of the Japanese circuit. The world is a big place, plenty of great matches out there waiting to be discovered!
Just read a rumor that Glacier, the old
Mortal Kombat
dude from WCW, is making appearances again. He has the worst name in wrestling. Literally, the worst. Even a tugboat is more dangerous than a glacier.
The wrestler of the month for June is CESARO. The man has all the right tools to be a world champion, its not his fault he is crippled by his homeland's weird language. But how can I not love a guy who wears a Canadian leaf into the ring out of respect for his tag team partner, TJ? I don't know if the pop-up uppercut is an old move or if he came up with it after seeing Kevin Owens, the first time I recall seeing it was against Cena sometime in the last couple weeks.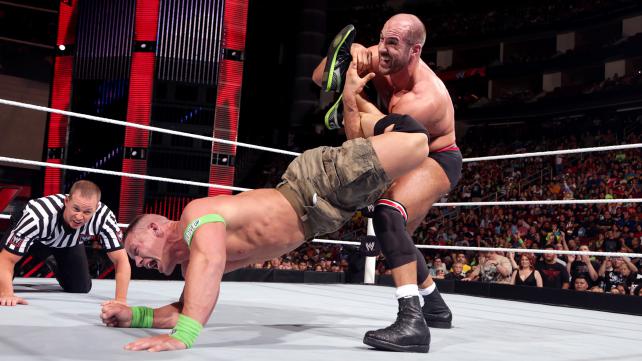 I really don't want to see Cena lose the title to Kevin Owens. Owens doesn't need it and Cena has worked hard to give that championship some value. When Cesaro carried the belt, no one cared. Now that Cena has created a whole new avenue for these wrestlers to explore, I'd rather see Cena lose it to someone like Cesaro who will treat it with dignity and respect. Cesaro would be able to follow Cena's lead and keep the title on television. We already have a Heel World Champion, we don't need two. Seeing Cesaro run from corner to corner with those big European uppercuts is quickly becoming the main event, his energy level is up there with Ambrose and Rollins.
Ironically enough, Cesaro has worked for ROH and Pro Wrestling Noah, a Japan based promotion.
Cesaro/Cena/Owens in an Iron Man Triple Threat Match for Summerslam 2015?