So the Money in the Bank pay-per-view is over and almost every match had an unexpected ending. Not all of them were happy endings either. In fact, depending on your point of view, none of the matches had a happy ending.
The MITB match was first, pitting Dolph Ziggler, Neville, Randy Orton, Kofi Kingston,Sheamus, Roman Reigns and Kane against one another.
Yes, it was a seven man ladder match, which meant a lot of time was spent laying on the mat outside the ring. The pacing of the match was changed from the traditional "beat each other and get the ladder later", in this match the ladder stayed up in the ring for a long time. In fact the ladder only went down when someone needed some room to do a big power move.
All in all, it was a decent match. Personally I feel like Randy Orton has been phoning in his matches recently. Other than hitting Neville with an RKO off the ladder, he really didn't do much in this match. In fact I don't even think Orton needed to be in this match, it would have played out better without him. With New Day coming out to help Kofi later in the match, there was a total of ten guys who made an appearance in the ring for this match.
I can't make sense of why the WWE would give the briefcase to Sheamus. There is no combination of matches this can create that I would be interested in. Sheamus is a mid-card heel and that's all I can picture him as. He's one of the wrestlers that appeared when I wasn't watching wresting and he has yet to impress me. Now I know everyone has an opinion, every wrestling fan with a blog site thinks he can book better matches. But I am a writer, storytelling are my life, so I am going to give my EXPERT opinion on which wrestlers would have provided the best story lines from their MITB:
#7- Sheamus. Worst possible choice.
#6- Neville. Would have been a waste of a contract since he's already challenged three different champions already.
#5- Dolph Ziggler. Rusev is gone, the Lana thing is bogus and I am not even sure if he is a heel or face. Ziggler's a floater and will continue to float around until he finds someone to elevate him, either as a partner or an opponent.
#4- Randy Orton. At least he'd use it wisely. Personally I've never seen Randy with the briefcase so for me, this guy is fourth.
#3- Kane. Kane's always dangerous, I can't knock the guy. Having him win would have given him a great tool to manipulate and infuriate Seth Rollins.
#2 - Kofi Kingston, Had Kofi won, we could have seen New Day against the Authority and Kofi would finally get a MITB victory. Too bad MITB was not a good night for the New Day.
#1 - Roman Reigns. He's perpetually getting screwed. But his victory would have been like a sword of Damocles hanging over whoever wears the belt. Instead, we got a set-up for a pay-per-view match between Bray Wyatt and Roman Reigns. I like Wyatt, I like the idea of a feud with Reigns, just not like this.
My guess is that Sheamus is going to join the ranks of such illustrious failures as Mr. Kennedy and Jack Swagger as men who have failed to cash in the contract for a victory and title win. I really hope Roman Reigns absolutely destroys Bray Wyatt for this.
Nikki Bella VS Paige:
This was actually one of my favorite matches of the night. I don't know why Paige keeps complaining and talking about change but then going right back into the match and doin the same old thing. I think Nikki is right, Paige just isn't good enough. She did manage to score a victory here, briefly, until the ref realized the Bellas had pulled a switch with the old Twin Magic routine. I actually thought that meant Nikki lost her title to Paige, but when Nikki returned to the ring, the ref continued the match as if nothing had happened (even though there was a third party in the ring who clearly interferred). Nikki Bella scored the victory. Which is great, because the Bellas rock.
(Yeah I watch Total Divas, so?)
Ryback Vs Big Show:
Ryback's strong. That's about all I got from this match. Both men did their thing and if this was 1992, it would have been an epic match. But this is 2015 and watching two big moose push each other around a pen just isn't that interesting. Ryback tried to put a few holds on Big Show and actually wrestle a bit but both men were either sloppy or uncoordinated, I am not sure which of them is to blame but a lot of the moves looked poor. Throwing Miz in between these two guys makes no sense, unless they simply swapped Miz for Daniel Bryan and continued the same storyline. . Ryback maintained the Intercontinental Championship anyway.
Cheers to the WWE for the fantastic tribute to Dusty Rhodes. My wife and I had a disagreement about whether or not Stardust and Goldust should have wrestled. She said they should be with their families, but I disagree. Dusty's life was wrestling, his friends and family were wrestlers, his children should have wrestled a match as a tribute to him. I have no yet seen RAW but I hope Stardust at least gets a chance to shine, it would be great to see crazy Cody come off the top rope with a "bionic elbow".
John Cena VS Kevin Owens:
Owens is so good in-ring, he's helped John Cena push his game up to the next level. This match was everything a major sports entertainment show is supposed to be. The heel KO kept the fans interested and by stealing Cena's three move combo, he forced Cena to come back with something original. There were a few incidents where they missed their mark or didn't sell the move, but that is to be expected in a live event match of this caliber. Unlike the previous matches in this pay-per-view, this match actually had a legit ending in the ring. I actually thought Owens might turn face after he shook Cena's hand, but I was wrong. Turns out KO the heel is here to stay. As I mentioned in a previous post, as tough as Owens is, Brock Lesnar is back and I really believe that when they meet, the chant "Fight Owens Fight" is going to be changed to "Please Don't Die."
Owens really needs to return the NXT title though. If these two face each other again at Battleground, its going to get ugly.
New Day VS Prime Time Players
: I kind of knew that they were going to push Titus and so it was not much of a surprise that New Day lost. It's great we got new champs, but Titus really needs to work on his in-ring performance. He's the same size as Roman Reigns but has none of the same energy and impact. Throwing guys is not wresting (well, unless its off the ropes or out of the ring I guess. . )
Seth Rollins VS Dean Ambrose: So far, every Seth Rollins match has been a great match. This was no exception. It went on for over a half hour and when it was over, Seth had just barely managed to hold onto the belt and score the victory. Dean Ambrose lost primarily because he was too cr/lazy to go up the opposite side of the ladder. Instead, both men went up the same side, took hold of the belt and fell on their heads. In the end, Rollins won and Ambrose cried. Definitely a good match but it is disappointing that Ambrose's title run is over now. Or is it? We shall see.
"Listen, forget all this. Clear your mind. This is what you wanted, right? To stand on your own two feet. So show them. Show them. Show them why I chose you. Show them that you are not the future, that you are the man. Show them who you are. Show them you are Seth Rollins, the World Heavyweight Champion. SHOW THEM!" - Triple H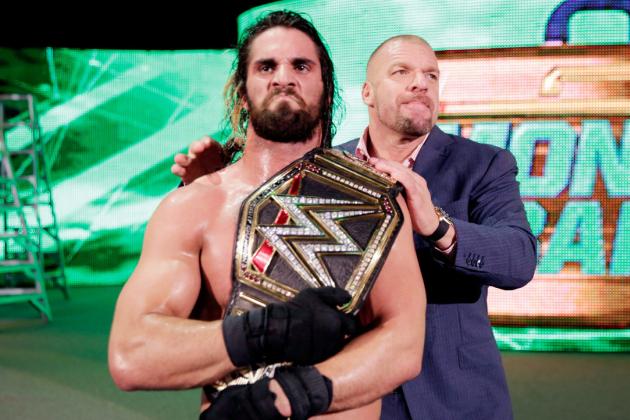 Can't wait for Monday Night Raw, to see where the WWE is headed this summer. It was a surprising pay-per-view that was well crafted but somewhat disjointed due to all the shady victories and heroic defeats. Maybe the WWE bookers are taking inspiration from that Games of Thrones show?