I have a confession to make. When he first joined the WWE, I hated Brock Lesnar.
I don't usually dig on guys with that much muscle. They tend to be stiff in the ring and limited in their abilities. Brock though was different, he was agile and fast, but he was so young and inexperienced that he just seemed like a big, spoiled baby.
So I stopped watching wrestling, mainly because I lived on my own in a over-priced apartment and I couldn't afford the cable channels that showed wrestling shows and the internet was not quite as easy for me to navigate.
Then Brock left, going off to join the UFC, which I had been watching. I was skeptical, because most guys that big can't fight, unless they've been born into it. Brock seemed like a bully, not a champion.
Brock had a lot of power, and he wasn't afraid to try new things, that shooting star press off the top rope, even though he completely botched it, was a brave attempt and showed that he could, with a little work, be a complete wrestler. Match after match, fight after fight, Brock Lesnar started to impress me.
By the time he was set to meet Cain Velasquez, I was willing to give him a second chance. He'd earned his way to the top of the UFC and even though he'd made a few dumb mistakes, he proved that he could fight and even more impressive, that he could think.
By the time he had lost to Velasquez, Brock had proven himself a champion. I remember feeling pity for him at the end of that fight, he seemed to so broken and disheartened. Cain beat him in a straight fight, no controversy, just a good clean brawl and when it was over, Brock was a different man. He looked like a child who just lost a dog that day, and from there I began to see him in a different light. He was no longer a young man, and neither was I.
When he returned to the WWE, he became something else. No longer was he just a powerhouse kid for the old-timers to overcome. Now he was a man and it was time to do the work. Now his personality and skills were honed to a fine point, one which the WWE used to maximum potential. Brock Lesnar has become one of the most dominant wrestlers of all time.
Now, when I hear Brock Lesnar's music go off, I recognize it as a symbol of strength and dominance. Now that Brock is no longer the young gun, he is even more dangerous. The WWE have done a fantastic job as portraying his as unstoppable, which he pretty much is.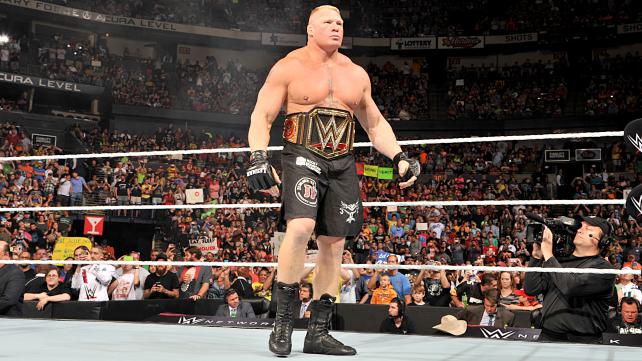 There is a whole new generation of WWE superstars in the top spots right now. Dean Ambrose, the crazy guy, Seth Rollins, the slimy architect, Roman Reigns, the big badass, Kevin Owens, the loud-mouth heel, etc. None of these guys has the sheer presence and power of Brock Lesnar.
When Brock steps into the ring, it means Big Daddy Brock is home and as good as the kids are, they can't beat the Beast. Every time I see him, I get a rush, the way people used to when Stone Cold stepped into the ring. I know when Brock is in the house, things are going to get dangerous.
It's going to be interesting to see who can stand up to Brock next. I am not sure Seth Rollins has what it takes.